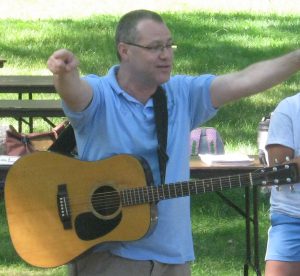 JEFFREY TUCKER – Senior Camps Director
Jeff Tucker first went to sleepaway camp at the Outdoor School Program in Oregon in the sixth grade and has been hooked on camp ever since. He joined the Program's staff in high school and has spent the last 37 years working in camps in California, Oregon, and Washington. Over the course of his diverse teaching and outdoors experiences,  Jeff has taught marine biology on the Oregon Coast, led canoe trips in the San Juan Islands, rock climbed in the Sierra Nevada, and hiked with kids in New York, together examining the remains of a fort George Washington once inspected. He has worked as a Camp Director since 1995 and takes pride in fostering a strong sense of community among his staff and campers. Jeff has had many amazing experiences, including a minke whale once swimming under his canoe. He is thrilled to join the HFH Summer Camps family after a career teaching middle and elementary school in New Jersey and Seattle. He also plays the guitar and the mandolin, which he brings to camp, and the piano, which will stay at home.
BRETT BILLINGS – Director, Camp Lanowa
Brett went to camp when he was younger, but he truly experienced the life-changing effects of camp while he worked on a small, year-round program for boys from low-income families in New Hampshire. Starting there as a swim instructor and lifeguard, he moved up the ranks and was put in charge of coordinating and guiding the backpacking, canoeing, and mountain biking trips for the 12-16-year-olds in the program. He also served as a full-time, community-based mentor for the organization, before moving to New York City to pursue his Masters in school psychology at Brooklyn College.  In New York, he's been an assistant teacher and therapeutic horticulture instructor– all while attending grad school.  He believes in experiential education: the philosophy that we learn best by doing, and from solving meaningful problems alongside others.  He is eager to join the team at Camp Lanowa and learn alongside the campers and staff!